This interview originally appeared in Beatroute Magazine. It was supposed to be there a few months ago, but an art snafu kept it out until nowish. Cairo is a great band and you should check them out posthaste.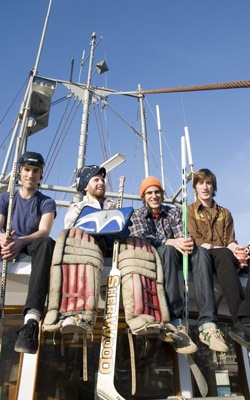 When there is a delicious meal set in front of me, the last thing I want to be doing is pacing myself and trying to add to the conversation around me. So while Tristan Thompson of Cairo is answering my questions, the guilt I feel over making him talk instead of eating his Victoria sandwich from Theresa's is second only to the pleasure I take from eating my stuffed French toast. I'm speaking to him ahead of the release of their self-titled debut recorded just down the street at Fadermaster Studios. As with any new band, conversation quickly turns to origins.
"I think tacking up a poster on a lamp post somehow exists on a lower level than Craigslist even," says Tristan of his time before the formation of Cairo. While the drummer was advertising his services, he came up with no shortage of creative mismatches. "You get calls from dudes who just play Metallica covers in their dorm room. I was like, 'You don't actually need me to do that.'"
Thompson relates how he met up with his counterparts JP Lancaster, Mark Crawford and Dan Crawford as a fairly innocuous occurrence. Linked through mutual friends, Thompson was the late addition to the band.
"I was actually in England, got an email from Mark who I hadn't seen in a while and he asked if I wanted to play with them." A sound was already emerging when he joined, and the chemistry was immediate. "They already had about five or six solid song ideas, and I really liked the dynamic, I really liked the sound of it. There was never really any discussion about what we wanted to be like or what we should be like."
Thompson describes how each member of Cairo was responsible for his or own "portfolio" in the songwriting process. "We just trust it all works together." In spite of its disparate origins, each part of the album is remarkably cohesive, with each member's pieces fitting like a jigsaw puzzle. The result is a taught package of clever tracks that sounds more collaborative than Thompson admits. This dynamic may be changing, however. He adds, "There is more (collaboration) lately – I think we're kind of growing up and leaving less to luck."
Cairo's sound is also a departure from much of Thompson's background. Frequenting punk bands in his youth, postings on streetlights led to flirtations with many genres at odds with the influentially diverse Cairo. From the post-rock leanings of album opener "Cogs" to the standout sing-along "A Hot Minute (At The Tech-Noir)," it's a far cry from some previous project's he found himself in.
"My band in Victoria was extremely pop-y. The keyboard player tried to call it 'party pop,' but we rejected that and told him it had to be called 'slumber party pop' because the only legitimate demographic for it would've been twelve-year-old girls at a slumber party."
Though he has traveled across Canada and around the world, Thompson sees no issue with being a musician in Vancouver. While bands will sometimes head east to seek fortune, the prospect of leaving is foreign to him, though Cairo seems centered around travel, if in name only.
"I had the opportunity to travel quite a bit. I love other places and other cultures," he says. But with an anticipated new album forthcoming and a seemingly endless reserve of enthusiasm, Tristan Thompson counts himself a die-hard local. "But man, I am from B.C. I am from Vancouver. And I want to live in my home. Please. Thank you."
For more information, check out www.myspace.com/whenincairo.