The following first appeared in Beatroute Magazine. Thanks to Sarah Kloke for coming out and fighting the fog with her camera.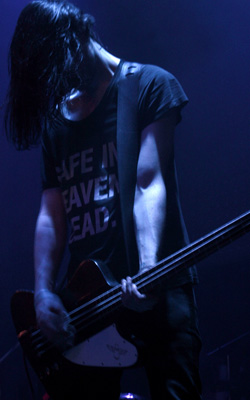 In 1999, a movie called Detroit Rock City added a little KISS to a tired college road trip subgenre. In it, Sam Huntington would remark to his cohorts about how in 1973, KISS was opening for Blue Oyster Cult, and how in one year to the day, B.O.C. would open for KISS. This conversation was running through my head all through the set A Place To Bury Strangers played for relative newcomers The Big Pink.
A Place To Bury Strangers brought their noise rock styling to an increasingly likely place at Venue. As if to emulate the fuzz and obfuscation of their sound, they turned their stage into a photographers nightmare with about a cigar bar's worth of smoke. Slicing in and out was an epileptic lightshow, one that elicited at least a few pointing fingers from the sparse early start crowd. If anything, The APTBS experience is heightened by the theatrics, owing in no small amount to the fact that their sets are, while remaining true to their trademark sprawl, a markedly tight, rehearsed feel to them. Album standout "Ego Death" was particularly exciting, and they ended a short set with "Ocean", the outro to which had them sounding like Hell's own string section. It was the opening act any band would be lucky to have, with an energy following that was ripe for the picking.
The Big Pink followed and seemed oddly out of place. Gaining all kinds of popular momentum off the strength of a well received series of singles and an album, they differentiated themselves from APTBS well – something that should have been a bit difficult given their similarity. But the way in which they differentiated themselves was less desirable.
The Big Pink simply could not follow the powerhouse that was A Place To Bury Strangers. Their set paled in comparison, and while it would have been merely uninspired in any other situation, following a atypically strong opening act was unfortunate. Despite their enthusiasm, they failed to reach any meaningful climaxes.
Which is what brought me to a late 90's film about KISS. Just like the young men in that film, I am incredulous that The Big Pink follows A Place To Bury Strangers on the bill. Maybe next year things will have changed.