The following originally appeared in Beatroute Magazine. I first saw these guys play ahead of an acoustic set by Asobi Seksu (I know, I know, I may as well change the name of this blog to Goodnight Asobi Seksu) and they blew my damn head open. I've seen crooners and folk pickers open for big bands at The Media Club before and there is usually a dull hum of conversation, half the room listening and the other half just there for the headliners. These guys struck the whole room dumb. Maybe that's their game, play so quiet everyone has to shut the hell up to hear you (it's what Teller did and does). Whatever was going on, it stuck with me and I seized an opportunity to hear them play again. So should you.
Article photo by Sarah Kloke. Additional photography from the Asobi Seksu show courtesy Rachel Hurst.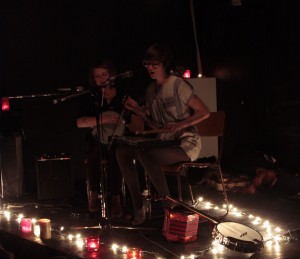 The way they play, you would think they're scared to break their instruments. So careful is Friendship and the Fawn with the strings of a banjo and the keys of a xylophone, you almost wonder if the instrumentars are heirlooms on loan from an obsessive relative who will inspect them later for wear. The result is an incredibly quiet performance, even with the aid of microphones and speakers. The library whisper of their sound, however, is in no way a negative. Instead, it stands as the fragile trademark of one of Vancouver's most compelling groups.
The project of Merida Anderson and Lindsey Hampton, Friendship and the Fawn played a candlelit show at the Little Mountain Gallery. The effect was arresting and onlookers were struck dumb – not for fear of drowning the band out, but just so they could drink in every precisely chosen note. Hypnotic doesn't scratch the surface.
The duo's minimalist folk sound relied heavily on the talented vocals from both members, with plinking banjo a staple of their sparse soundscapes. They juggled instrumentation, playing tambourines with their feet, and used mallets and violin bows interchangeably on xylophones. This display of virtuosity was balanced out by deep emotion and moody climaxes.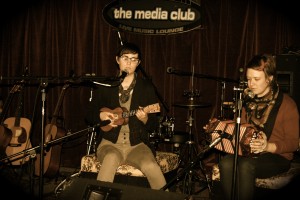 For a band that sometimes opts to hum instead of sing and manipulates silence like some bands wish they could use guitars, Friendship and the Fawn never become boring or stale. Yuki Chikudate of Asobi Seksu once described them as "hauntingly beautiful," but that description doesn't convey the group's warmth. It's as memorable as Vancouver music gets.
Comments Off

on Live Review – Friendship and The Fawn