This article originally appeared in The Peak. It was written for my friend Brendan Levesque, who knows far more about these flicks than I do. Hope I did them justice.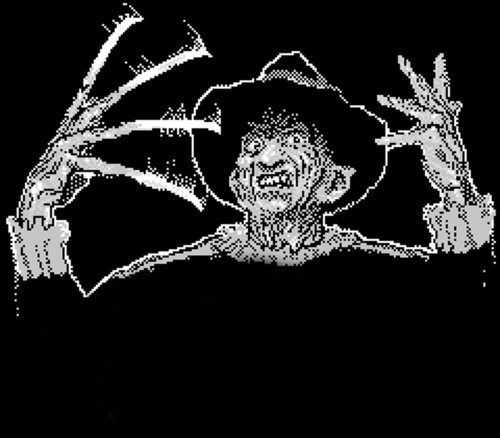 I was always more of a Jason man myself. Call me crazy, but a machete-wielding madman using an occupied sleeping bag as some sort of Cabela's catalog morning glory to attack a tree always tickled me in an immeasurable way (R.I.P Judy).
That kind of terror is minimalist and embodies a kind of punk, DIY spirit that I gravitate toward — grab your biggest knife and a hockey mask and you're in business. That being said, I was always intrigued by the nuance of fellow triumvirate member Freddy Krueger. Nuance might sound funny to describe a man with a lethal manicure coming to kill you through your dreams, but this concept played with the idea of mental illness and the intractability of deemed insanity. Invariably, telling even your nearest and dearest that a man is trying to kill you behind your eyelids is a quick route to a tidy lobotomy, and the Nightmare on Elm Street franchise plays with the loneliness and eventual independence that came with triumph. It pulled the slasher film away from an explicit external force with a neat mask to an internal struggle, an invader incurring on the most personal of human experiences. Further, the overtone of fearing your dreams is delicious.
It's due to this level of nerd affinity that I can't get too cynical about the recent rash of horror remakes. The Hills Have Eyes, Friday the 13th, and now the resurgence of A Nightmare on Elm Street are only partly the fault of a Hollywood that is out of ideas and clamouring for the shrinking box office take. The fact is, there are a ton of profitable, remake-ready franchises out there that don't carry with them the lexical baggage of the horror genre. This recent Elm Street is mindful of these tropes, ones that — if not present — would represent the failure of the movie in the eyes of the horror cognoscenti. Paradoxically, their inclusion makes sure the genre never moves forward, that stagnation being both its hallmark and kiss of death.
Before remakes became the norm, Neil Marshall's The Descent made the horror fanbase step back and ask if these tropes could be dismissed in favour of layered, smart, and engaging horror. 2010's Elm Street takes that idea, gives it the finger, and bastardizes it in an incredible way.
The movie itself is mediocre. The inclusion of Jackie Earl Haley (Shutter Island, Little Children, Watchmen) and Kyle Gallner (who stole scene after scene in Veronica Mars) inspired some early hope for the film, but it falls on its melted face pretty hard. The script has interesting ideas that are relegated to vestigial status one by one. From interesting subplots regarding academic reliance on alertness medication and the disadvantages of the buddy system (it's hard to convince people you're innocent when you are drenched in stage blood), this Elm Street abandons smart ideas methodically, peaking with a fantastic sequence involving a video blog. It even starts toward an incredible character rewrite of Krueger, casting him as a kindly janitor unfairly lynched for child abuse. Instead, they take the easy way out, throwing away a very modern story of a persecuted innocent man and turning it into the standard "Yes, all single men over 40 are pedophiles." Stacked against blatant quotes from Psycho, Pulp Fiction, and the aforementioned The Descent, it all comes off as thoughtless cash, desperately trying to be cool, and collapsing under the weight of its could-have-been innovations.
However, despite its overall failure, A Nightmare on Elm Street demonstrates why the genre is endlessly perpetuated, and why it can never and will never die. Elm Street is perhaps one of the most astute mirrors held up to our generation, and by far the most tongue-in-cheek comparison of Millennials to baby boomers to hit film screens yet. That lexical precision of the genre prescribes a few things; among these, the philosophies represented by the harbingers of death in them. Some trends border on the silly: minorities die first, mirrors are untrustworthy, running is pointless, and the virginal type is likely to slay the antagonist with some sort of phallus. In fact, these are so well documented that a fantastic mockumentary was created around them in the form of Behind The Mask: The Rise of Leslie Vernon. Most pressing here, however, is the changing social landscape seen in these films.
In previous decades, boomers were being punished for their teenage decadence — drugs, alcohol, fornication, and the ingratitude toward the Greatest Generation were punished mercilessly by those film's antagonists, a kind of reaper acting in the interest of '50s American values. Here, the violence lacks that kind of engine by virtue only of what we have become. The characters are depressing modern archetypes — sexless, tepid, wannabe artists without a hint of warmth or confidence, toiling away on homework in their rooms instead of the standard vacationing in abandoned cabins ripe for coitus interruptus. In context, you would expect this film to be a mirror bent to fun house specifications, but Elm Street opts for realism and just shows us ourselves. It's terrifying.
1 Comment

on Why Slasher Horror Can Never Die
Tags:
behind the mask
,
film
,
freddy kruger
,
friday the 13th
,
horror
,
jason voorhees
,
leslie vernon
,
movies
,
nightmare on elm street
,
review
,
terrible
,
the peak
Categories:
Official Works