The following first appeared in Beatroute Magazine. Thanks to Katherine Green for sitting through this with me.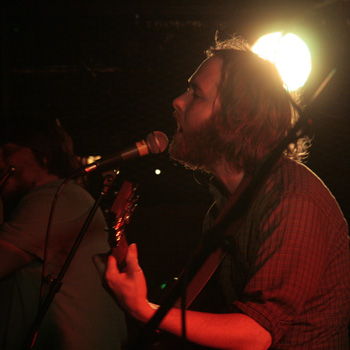 In previous decades, the keys to success were acid wash jeans and the occasional robe of sequins and leopard skin. Now, it seems the shortcut to popularity is the one-two punch of a buttoned plaid shirt and a mass of facial hair. Playing to a packed Biltmore Cabaret, Midlake seemed ready to up the ante with some cross-demographic success and copious flute embellishments in their music. Touring with Denton, Texas cohorts Matthew and the Arrogant Sea, Midlake brought their brand of pretty acoustic folk-rock to an appreciative (if overly reverent) crowd.
Matthew and the Arrogant Sea were almost too appropriate for the bill, their style blending so seamlessly with Midlake's as to feel too similar. Where they diverge is Matthew's penchant for drum-driven epics. Whereas Midlake feels like a walk through a forest, the Arrogant Sea evokes a more powerful intensity, a Tarzan to Midlake's Mowgli. Being joined onstage by members of Midlake (the added manpower and chemistry was beneficial) and mentioning a meal they had at Foundation were just the right notes to make the crowd show some love.
For Midlake, even stepping onstage seems like an act of logistical might, as the ensemble packed the Biltmore's stage with band members. The group powered through he majority of their LP tracks and were amiable and entertaining throughout, garnering applause only when it was polite (after each song) and prompting at least one fan to throw up the devil horns during a particularly moving flute section.
Midlake, for better or worse, garners an exaggerated amount of comparison to fellow crooners Fleet Foxes. This is unfortunate because this comparison will always serve to expose the truth about the band: their output is neither exceptional nor poor, just as middle-of-the-road as their name would suggest.
Comments Off

on Live Review – Midlake/Matthew and The Arrogant Sea