The following first appeared in Beatroute Magazine. Thanks to Katherine Green for her war photography.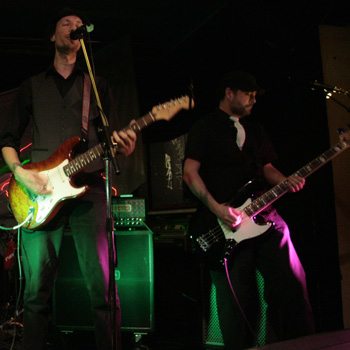 Vacant City invaded the Anza Club to release their new album Forgotten Street. Sharing the stage with the Stumbler's Inn, they aimed to usher in their recording with gusto. Gusto was had, but not from the headliners.
The Stumbler's Inn played to a large crowd, but it was about half as large as they deserved. Their mix of rock and blues is infectious, with much of their charm attributable to a dynamic onstage charisma and fantastic songwriting. One of the highlights of their set was a song called "The Blues," a masterful mix of compelling songwriting and hilariously ironic lyricism that had more than a few audience members laughing in between shouts and applause. It is unfortunate for Vacant City, however, that they set the bar so high.
Vacant City seem to have a dedicated following. Though there was a definite drift to the Anza basement (and to the door) a few songs into their set, the remaining fans were treated to a good mix of new and old material. Dressed like the Hives and sporting the requisite fedoras, they interspersed their songs with detailed descriptions of their content, revealing that one song was about making love in the back of a pickup truck. After a brief encounter with a guitar knocked out of tune by "rocking too hard," their set concluded with a few less than it had to begin, but with satisfaction all around.
The CD release party was a success, but that success is not reflected in the new material. Despite their enigmatic presence, their tracks hearken to a dated era in rock, sounding like Stone Temple Pilots without the drama. Fans will find the new material more than satisfying, but newcomers may find the first half of their name a little too apt.
Comments Off

on Live Review – Vacant City/The Stumbler's Inn