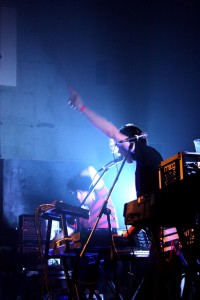 With a bass output usually reserved for dubstep shows and Honda Civics, the Edmonton electro sextet Shout Out Out Out Out pounded out a tight set at the Rickshaw Theatre with precision.
Touring behind their latest effort Reintegration Time, the inordinately personable Albertans returned triumphantly to Vancouver to a voracious crowd dedicated to dancing just as much as the T-shirted artists onstage.
Seemingly determined to master the timely high kick and to steal the dance-rock cowbell crown from the Rapture, Shout Out Out Out Out tore through the vast majority of their catalogue to the delight of a packed theatre. Their short career was duly represented, with old favorites, like "Nobody Calls Me Unless They Want Something," and some promising new numbers, like the stellar "Bad Choices."
The heat was off in the Rickshaw, making sure the crowd and the band stayed bundled up in heavy coats, but by mid-way through the set, Shout Out Out Out Out made sure we all warmed up.