This interview is proof positive of why 500 words is a little short for an interview, as I had about an hour of great stuff from a great band. They will sock your face with a fist. Watch out.
They make music under a kind of punk rock sobriquet rouge, insisted upon with pseudo-serious urgency. So, for all intents and purposes, up-and-coming local post-punk outfit AK-747s are violinist Chris Token, drummer Izzy Gibson, bassist El Viejo Verde and frontman Rob Nuclear. "Yeah, go with that," says Nuclear, laughing. It's an image that meshes nicely with the way the band operates.
"The goals have always been very, very small," Rob says. A self-taught musician, his handle is shockingly appropriate. Taken to long, educated rants on a variety of subjects (which, during our time together, included Danny Boyle's Sunshine, September 11, abortion, Edmonton, the end of humanity, ex-girlfriends and his father's home improvements), Rob Nuclear embodies a kind of swagger and bombast lost on today's frontmen, but with a pronounced blue-collar temperance.
As far as origins go, the original AK-747s' lineup has all but imploded, Nuclear explains. "My drummer began disintegrating in a maelstrom of crack cocaine and cheap wine." He's not worried about them coming back for royalties. "They can drink a tall glass of suck my fucking dick." The near band-ending break was a catalyst for the chemistry and cohesion of the new lineup, obvious over beers.
Izzy Gibson, drummer and experienced multi-instrumentalist, credits the band for being the most stable she's been in. Formerly of the Living Deadbeats ("I think the lead singer is in jail now!"), Gibson is the longest-serving member aside from Nuclear. She remembers recruiting violinist Chris Token fondly. "When you first walked up, I said, 'Oh man, I give it five minutes until we scare the crap out of this guy.'" Token, a classically trained veteran of local symphonies, had a sizable punk rebellion in his youth that gave new direction to his musical talents. "Being half-Chinese you either play the piano, clarinet, or violin. I ended up with the violin. I just wanna play the violin and have fun doing it."
Nuclear is quick to praise his bandmates, but they all exonerate themselves from lyrical responsibility, saying any criminal charges belong to him.
"Some pretty dreadful things happened in my life, and I think that's where a lot of the tunes came in." Standout track "Loretta" chronicles a suicidal crying wolf in a gripping, taut four minutes. When asked if the song is semi-autobiographical, Nuclear smiles. "I'll take the fifth," he says, adding, "Yes. Drop the semi. That person is still with us."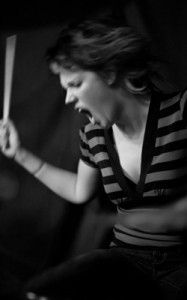 The history has given a sense of perspective to the band. "We're not doing it because we want to be millionaires," says Gibson. The dream isn't dead, however. "If I could play music for a living, oh fuck yeah. By the time I'm forty I'm gonna have a guitar-shaped pool and biatches. And a grill. I'm gonna buy a grill for my mother." If there was anywhere they were going to do it though, Rob maintains Vancouver is the place to do it.
"I love this fucking city and I'll tell you fucking why: it would have been motherfucking impossible for me to pull this off anywhere but here. The openness and acceptance I have seen. By and fucking large, the people in this scene are open, supportive, they want to rock and get drunk and have a good time and that is fucking rad." An Edmonton expatriate, he is explicit in his aims and uncensored in his conviction. "I'll play fucking anytime, fucking anywhere for fucking anyone." He continues, counting on his fingers.
"I'll play your fucking house party, I'll play your fucking bar mitzvah, I'll play your fucking christening."
Comments Off

on Interview – AK-747s